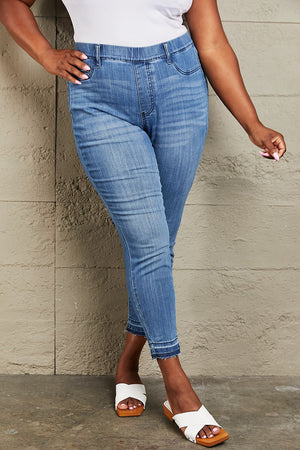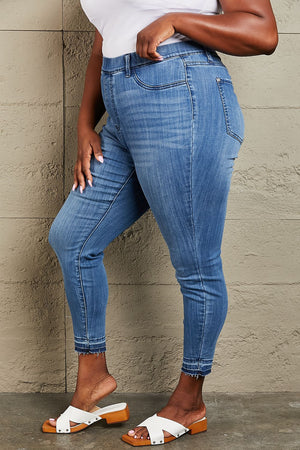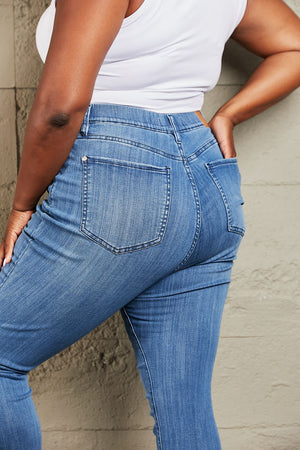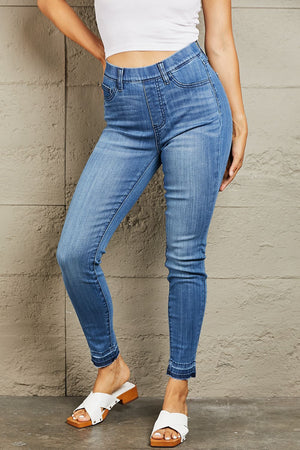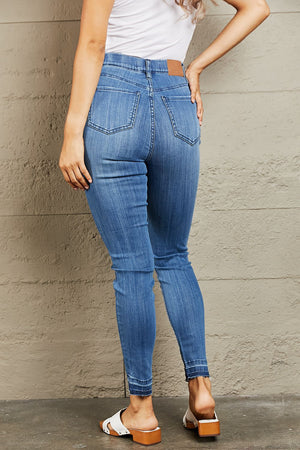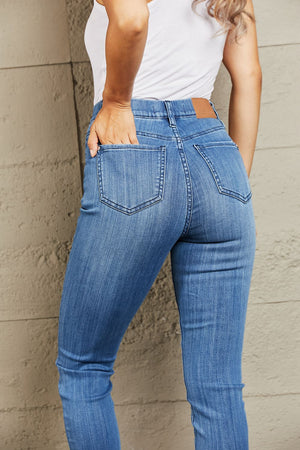 Judy Blue Janavie High Rise Pull On Skinny Jeans
These jeans are designed to accentuate your curves while providing a flattering silhouette with their high waist fit. Crafted from premium stretch denim, they offer a comfortable pull-on style for effortless wear. The release hem detailing adds a touch of edginess to your look, making these jeans perfect for both casual outings and trendy evenings.
Judy Blue jeans are women's fit jeans - Their sizing is in odd sizing. In order to find your true odd size you take your highest even size and subtract 1. For example, a true size 12 would be an 11 in women's odd sizes. If you straddle two even sizes, take the middle size (for example a 6-8 would be a true size 7). This is your starting point for every pair of jeans! From here, follow the fit for each individual pair. 
SIZES 1-15 you can size down 1 from your true size for the perfect figure flattering fit! 
PLUS: Go true to size for the ultimate comfort fit!  These are so soft and stretchy!
Pattern type: Solid
Style: Casual, Chic
Features: Raw hem
Length: Cropped
Material composition: 52.2% cotton, 21.5% rayon, 23.4% polyester, 2.9% lycra
Stretch: Moderate stretch
Care instructions: Machine wash cold. Tumble dry low.
Imported
Product measurements:
0(24): hip 30 in, rise 10 in, inseam 27.5 in, waist 24 in
1(25): hip 31 in, rise 10 in, inseam 27.5 in, waist 25 in
3(26): hip 32 in, rise 10.5 in, inseam 27.5 in, waist 26 in
5(27): hip 33 in, rise 10.5 in, inseam 27.5 in, waist 27 in
7(28): hip 34 in, rise 10.5 in, inseam 27.5 in, waist 28 in
9(29): hip 35 in, rise 11 in, inseam 27.5 in, waist 29 in
11(30): hip 36 in, rise 11 in, inseam 27.5 in, waist 30 in
13(31): hip 37 in, rise 11.5 in, inseam 27.5 in, waist 31 in
15(32): hip 39 in, rise 11.5 in, inseam 27.5 in, waist 32 in
14W: hip 42 in, rise 11.5 in, inseam 27.5 in, waist 31 in
16W: hip 42 in, rise 11.5 in, inseam 27.5 in, waist 33 in
18W: hip 44 in, rise 12 in, inseam 27.5 in, waist 35 in
20W: hip 46 in, rise 12.5 in, inseam 27.5 in, waist 37 in
22W: hip 49 in, rise 12.5 in, inseam 27.5 in, waist 40 in
24W: hip 52 in, rise 13 in, inseam 27.5 in, waist 42 in